We're well into January and we've been compiling 2018 home décor trends from our favorite websites and blogs!  We thought we'd share what we've seen so far.  It's no surprise, but the categories that make us "ooooh" and "ahhhh" are Kitchen and Bath.  These areas are where most homeowners choose to focus their time, energy (and money).  They are also the places where one change (flooring, tile, lighting, wall covering) can make a huge impact.Often, many homeowners look to see where they'll get the most bang for their buck when spending décor or remodel dollars.  It should come as no surprise that according to HGTV, a minor bathroom remodel pays the biggest dividends.  They note that it costs about $10,500 to replace the tub, tile surround, floor, toilet, sink, vanity and fixtures. You'll get back an average of $10,700 at resale, a recoup rate of 102 percent.  But how to decorate?  Here are the latest décor trends for 2018, broken down into some major categories:
Kitchen
 According to ELLE Decor, the #1 kitchen trend to look for is colored cabinets; blue and green specifically.  These fresh hues can be mixed with other colors or complementing wood stains.  They are even bold enough to stand on their own.
Another trend is to go bold (if blue and green cabinets weren't bold enough for you!).  Consider using Pantone's color of the year, Ultra Violet.  If painting an entire wall is too much for you, use it as an accent color.  Perhaps paint the inside of a built-in with the bold color or call attention to a tufted seat, piece of art, or accent wall.Sticking with the dark, bold colors that are on-trend for kitchens, dark countertops are back in.  Dramatic blacks are in style as are deep greens.Mix-and-match finishes are something to look for, too.  "Using multiple colors in kitchens has become a popular trend this year. For example, painting base walls or cabinets in a dark charcoal tone and upper cabinets and walls in creamy off-white tones is something we're seeing more and more of," according to Sue Wadden, the director of color marketing at Sherwin-Williams.  This would be in contrast to a kitchen with white cabinets, white tile and a white countertop.Finally, high contrast marble with bold veining is very popular as a kitchen statement piece.
Bath
According to trendsetters, stainless steel and polished nickel might be things of the past, replaced by brass (again!).  Brass accents actually impart a warm tone when compared to the sometimes cold and clinical look of stainless steel.  Think brass faucet fixtures or cabinet handles.  These would look great coupled with another trend for baths– black and white.  We've seen some terrific black and white tile floor designs.  Another cool look is to wallpaper one wall of the vanity in a glossy black and white pattern, and paint the other walls solid.Bucket sinks (also known as Trough sinks) are farmhouse inspired and will be popular in both kitchen and bath.  Think retro and nostalgic…these are hot!  (Image via Pinterest.)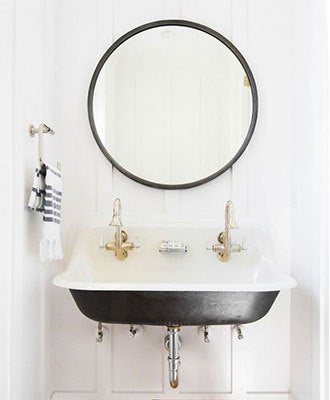 Lighting
Huffington Post points out that one of the biggest trends is lighting is to "buy local."  Interesting, artisan lighting fixtures from local artists and small businesses ensure that your home doesn't look like every other one in the neighborhood!  They personalize your home and boost the local economy, to boot!We will continue to see more LED lighting.  It is affordable and cost-efficient in the long run.  The upfront cost for LED bulbs is likely more…but you will make it up as they are more efficient.  Look for LED lights outside of the home as well.  People are spending more time and money on their patios and outdoor living spaces, and lighting is no exception.Look also for nostaligic details like retro Edison bulbs, which were really making a surge in 2017.  They complement popular farmhouse style homes, industrial condos, lofts and everything in between.
Flooring
Flooring, like many other areas of our lives, is increasingly giving a nod to alternative, eco-friendly and organic materials.  Linoleum has seen a resurgence as manufacturers have upped the style quotient and incorporated style and design that don't scream hospital or grade school flooring.  Linoleum designs can even mimic limestone or other natural material with veining!Another popular flooring option is cork.  We love this look of cork penny mosaic with dark grout!  (Image courtesy www.tierneyconner.com.)  There are even newer whitewashed corks for a lighter look and feel.
Ready to update your home?  Whether you're updating so you can stay put, or updating and spiffing up to sell, there are lots of beautiful options out there!